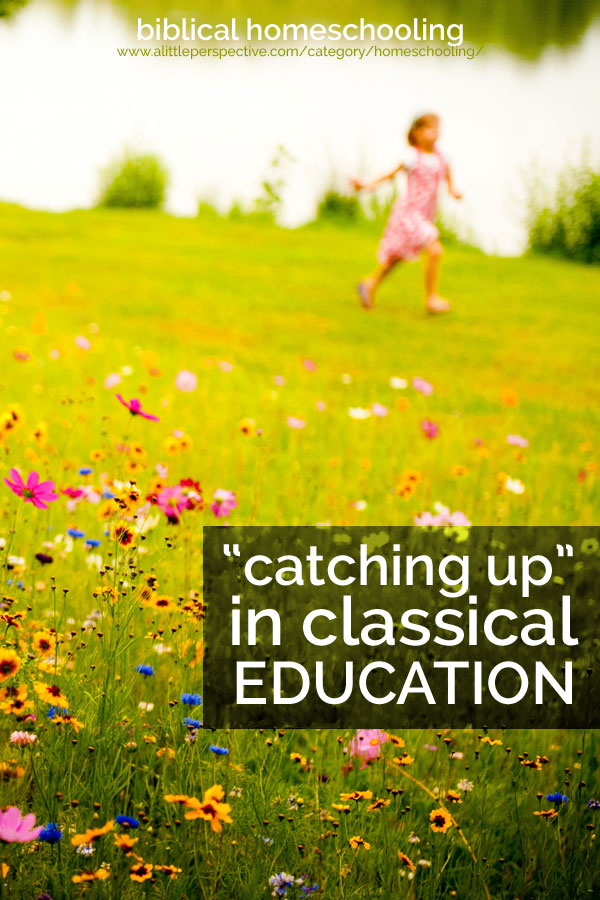 (Or in any educational method)
Many children begin classical education, not in kindergarten, but come to it later from another educational method. One of the burning questions parents have is how to get their children "caught up" to where they should be in classical education.
Classical education depends on a progression of knowledge. Parents will usually not be able to plunk their children down into the 4th grade or 7th grade of classical education or what ever grade their children should be in. Children will need to begin where they are in knowledge, regardless of the grade that knowledge is assigned to, and work forward. It is encouraging that it does not take a 10-year-old or a 13-year-old as long to learn the same body of knowledge that a 6-year-old would require.
Parents, do not worry so much about whether your children are "behind." If a child does not know something foundational to understanding, wisdom, and judgment, then he is "behind." By this definition, most high school grads are "behind" in this country, and measuring our children against what they are doing is less than useless.
Therefore, whatever tools of learning a child masters from this point forward, he will be that much more "ahead" of the vast majority of students in this country. Relax, breathe deep, and take things one step at a time. Don't kill the joy of learning for children in your efforts to "catch them up."