The Big Picture
I planned to do 36 weeks of academics, 5 days per week, which met my state's requirements with margin. You want margin – planning for more days than your state requires – because life happens, emergencies happen, and the best-laid plans don't always work out. If you plan for more days than you actually need, you don't have to scramble to make up days at the end of the school year.
In my early years of homeschooling, I followed the same calendar as the public school, but spring burn out was a major issue, just as it was with the public school kids. I solved it by abandoning their calendar all together.
I divided our school year into 6 blocks of 6 weeks each, for 36 weeks of school. I intentionally set a week off in between each 6-week block. I figured if man needed to work 6 days and rest on the 7th, kids and Mom could school for 6 weeks and rest on the 7th. Immediately this plan solved several problems. Housework tended to pile up during the school week. Of course I planned to not let it pile up, but the reality is that it did. The week off helped me find the time to 1) catch up the laundry and other chores; 2) grade and file the previous block's work, and 3) plan out the details of the next block's work (more on that coming up) without feeling frazzled.
Of course the kids and I took time during our week off for fun activities, such as visits with grandparents, museum, zoo, or park days, day trips to the mountains, or anything else we wanted to do. Often Dad planned for a day off coinciding with our time off, so that all of us could do something fun together.
The next step is to commit the revamped school schedule to a calendar. I took a regular commercial wall calendar and mapped in the six 6-week blocks and time off. Here is an example of a traditional calendar with the school blocks in yellow and the rest weeks in blue (I downloaded the blank calendars from calendarlabs.com; they have a variety of customizable styles available for private use):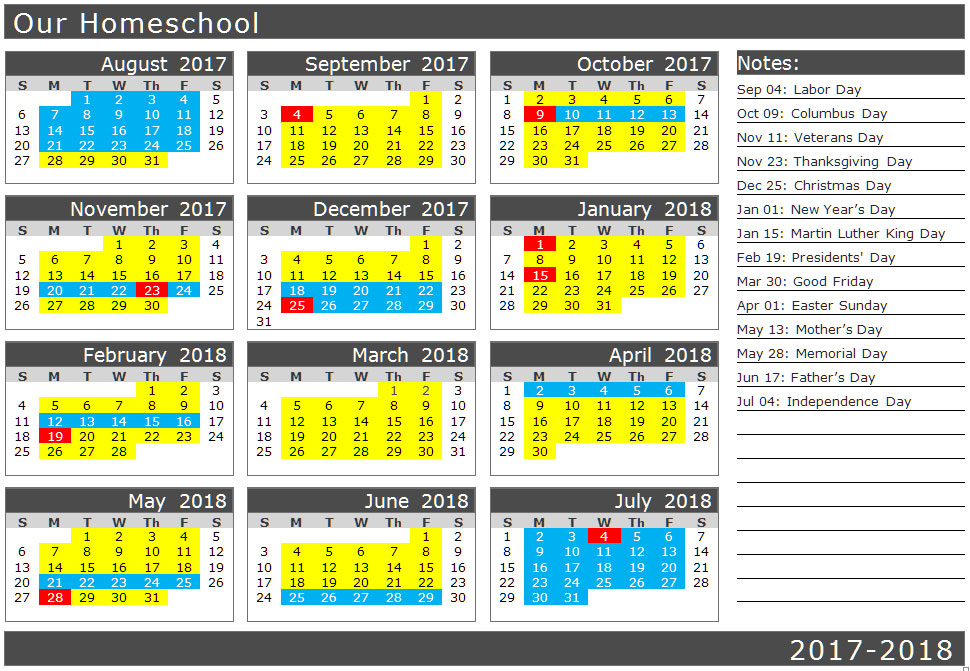 The national holidays (usually days off for public schooled children) are in red. You can see that because of how holidays that were important to our family fell out, I little juggling of one or two blocks was necessary. Nevertheless, by the end of the school year, we had completed six blocks of six weeks each.
If I was doing this now (I'm not – my children are all long graduated), I would plan for several weeks off for the Fall Holy Days. Here is an example of a biblical feast day calendar:
The biblical holidays and high Sabbaths are in dark blue. Of course, anyone can take this basic idea and tailor their family calendar to suit their needs, that's the beauty of this system! When we were done with six blocks of six weeks each, we were finished for the year, and always had most of the summer off.
During the summers we still "schooled," by the way. We continued to read, we did nature study outside (which was our science in the elementary years), and I planned for the "fun" academics for the summer: art and music. Summer is also a great time to learn traditional real world skills applicable to your family: cooking, gardening, woodshop, sewing, clothing construction, pet care, photography – the list goes on.
Once I had the big picture mapped, it was time to fill in the details of our lesson plans.
Curriculum Planning Building Blocks – Planning the School Year Part 2
Filling in Details – Planning the School Year, Part 3