Text Only
(Printer-Friendly)


curriculum

Classical Christian
Homeschooling:
Classical Education
at Home
WebMaster:
Christine Miller
Classical Christian
Homeschooling Online Catalog: 1st Grade Science Curriculum
www.clas...ling.org/curriculum/science-1.html
This page last revised:
May 2003
Copyright
© 1997-2003
---
1st Grade
Science Curriculum
Introduction to Natural Science
---
---

What's Alive?
Kathleen Weidner Zoehfeld, Nadine Bernard Westcott
Part of the Let's-Read-and-Find-Out Science series, What's Alive? uses simple words and pictures to introduce the basic concepts of classification in biology. "Are you like a cat?" The questions and answers makes the child look closely at ordinary things, how they are the same and how they are different. Then the ideas get more complex ("like a flower and a tree, you are growing"), and finally, the division is made into living and nonliving things. The concepts aren't easy, and the author helps children grasp them by coming back to the same ideas in different ways. Awarded Best Children's Science Book in 1995.
---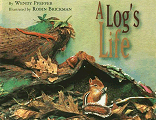 A Log's Life
Wendy Pfeffer, Robin Brickman
This book tells the story of a giant oak tree, the unsung center of a living community of organisms, big and small, as it topples one day during a storm and breaks apart. It becomes a giant log sprawled on the forest floor, and yet maintains a central role in the life of the forest around it. Finally, it decomposes and ultimately becomes the soil in which an acorn sprouts and grows into another massive oak tree. But it is how this simple story is told that makes this book tower above others, much like the oak tree it chronicles. While many children's science picture books "read like a school book," this one is a true storybook -- to be read purely for the joy and pleasure it provides -- with science learning as an unexpected premium. Pfeffer's words are impeccably chosen to convey the tale with as few words as necessary, but judicious use of alliteration, powerful verbs, and the concept of recurrence engraves the story into children's memories, arouses caring emotions, and teaches undetectably the concepts of food web, life cycles, seed germination, animal identification, ecological community, niche and niche exploitation, disturbance ecology, camouflage and mimicry, common and technical terms (dirt, soil), and decomposition. A Log's Life is the recipient of the 2000 Giverny Book Award for Best Children's Science Picture Book.

---

Animal Hide and Seek
Barbara Taylor, John Francis
Find over 440 animals hiding among the lush green leaves of the Amazon rain forest; lying low on the dusty African savannah; darting around the underwater world of the Australian coral reef; hiding in the Himalayan mountains; the eucalyptus woodland; the Arctic tundra; the North American desert or the marshy swampland. Award-winning wildlife artist John Francis gives us lavish, double-page illustrations of animal habitats around the world filled with its own unique mix of animals and plants. Each spread opens out to reveal a different habitat and a fun spotting quiz, with a locator globe and additional photographs on every fold-out page. Some animals are easy to spot; others hide away and have to be found. How many can you find? The answers are at the end of the book.

---
Nature Cross-Sections
Richard Orr, DK Publishing
Richard Orr's colorful paintings show cutaway views of 12 different ecosystems: a rain forest, a tidal pool, a North American desert, the Arctic, the Antarctic, the Pacific Ocean, a beaver lodge, a beehive, a termite city, and more. With large, double-page spreads for most topics and two sections folding out to poster-size four-page spreads, the oversize format of the book makes possible a wealth of detail in the pictures. In addition to the brief introduction to each subject, short paragraphs identify and discuss portions of the illustrations.
Out of print. Search AddAll.com or BookFinder.com via a title search using "nature cross sections" and an author search using "orr." If a used copy of the book cannot be found, request your public library to interlibrary loan a copy in for you, and when it comes in, copy it and bind it at a copy store, and return the book to the library. The U.S. Copyright Law contains a fair use provision which allows an educator to make a single copy of out-of-print materials if needed for use in teaching (not for profit or publication).

---

Before and After
Jan Thornhill, National Geographic Society
Subtitled: A Book of Nature Timescapes. In rich, detailed illustrations, flora and fauna are depicted in various habitats "before" and then again "after" a period of time has passed. For example, see many species of creatures in a coral reef: fish, starfish, sea urchins, a giant clam. Turn the page and a few moments have passed during which some of the creatures have left the scene, others, such as a shark and a large turtle, have entered. A pond is shown at sunset. Turn the page and an hour has passed; the animals now begin their nighttime activities. Other habitats include an African savannah, a meadow, a South American rain forest, the edge of a forest in eastern Australia, and a school yard. The time passed varies from a few moments to an entire year. A beautiful exploration of the natural world and the earth's diverse ecosystems.

---
Fun With Nature
Diane L. Burns, Mel Boring, Leslie A. Dendy, Linda Garrow
"Fun with Nature is six nature handbooks in one. Each of the book's six sections -- "Caterpillars, Bugs and Butterflies"; "Frogs, Toads and Turtles"; "Rabbits, Squirrels and Chipmunks"; "Snakes, Salamanders and Lizards"; "Tracks, Scats and Signs"; and "Trees, Leaves and Bark" -- is like its own self-contained book. Although nothing is covered in great depth, the reader does not feel short-changed. The text, illustrations and easy-to-follow format of the first four sections teach us what each animal looks like, what it eats and where it can be found. The section focusing on tracks, droppings (scat) and signs is organized by habitat and includes information about a number of animals, each shown in the setting where it is most likely to be sighted. The book's final section, about trees, leaves and bark, is particularly striking. The stark layout highlights the illustrations and brings details to the forefront. Most notable are the drawings of bark. They show the texture so realistically that there almost appear to be actual pieces of bark pasted onto the page. Some hands-on activities are also suggested. In addition, advice and special warnings that will enhance your outings are set off in boxes at the bottom of many pages." From the Scientific American.
---

More Fun With Nature
Diane L. Burns, Mel Boring, Laura Evert, Christianne Tibbits
Parents and educators clamored for more, more, more when they discovered Fun With Nature, so More Fun With Nature delivers. Five sections include: "Berries, Nuts and Seeds", "Birds, Nests and Eggs", "Rocks, Fossils and Arrowheads", "Seashells, Crabs and Sea Stars", and "Wildflowers, Blooms and Blossoms". Beautifully detailed and true-to-life illustrations help the reader find out things like what it looks like, where to find it, what it eats, what eats it, and what it's used for. Includes 18 activities and 15 scrapbook pages for notes.
---

Kids' Nature Book
Susan Milord, Susan Williamson
Subtitled: 365 Indoor/Outdoor Activities and Experiences. In a straightforward, common-sense fashion and approach, Milord presents the world of nature in daily increments. A project or activity is offered for each day of the year, and each week is given a theme around which the projects focus, coordinated to the changing seasons. Make a snow gauge, hatch amphibian eggs, plant a butterfly garden, create a cloud in the kitchen! Most of the activities are simple events that could take place in the home (preparations for a nature display area, or reading a story or poem which ties in with the week's events). Other activities require visits to parks, beaches, or other outdoor areas. And still other activities can be successfully completed in one's backyard. The initial section includes information on how to use the book, how to respect the wildlife which is being observed, and preparations which should either be taken or made in order to properly observe and work with nature.
---
Using the Online Catalog

This online catalog is made possible through an association with Barnes&Noble.com. Clicking on the book title or book cover will take you to Barnes&Noble.com's information page about that book. You can look at its price, availability, any discounts currently taken for that title, reviews of the book, and other information, as well as order it if you decide to purchase the book. You can even place books in your shopping cart and save them for purchase at a later time. You can continue to add or delete books from your shopping cart until you are satisfied with your order and ready to purchase. Clicking on any link to Barnes&Noble.com will open a new window; to return to CCH, click on the "Window" menu on your browser's menu bar, and choose Classical Christian Homeschooling.
Sometimes books go out of print, or the publisher runs out of stock. Any book not available from Barnes&Noble.com for any reason can be searched using AddAll.com, a book shopping site which will scan Barnes&Noble.com as well as Amazon.com, Powell's Books, Book Close Outs and many other new and used book sites. Be sure to also check BookFinder.com for out of print book searches.
Still have questions? Ask me!
---