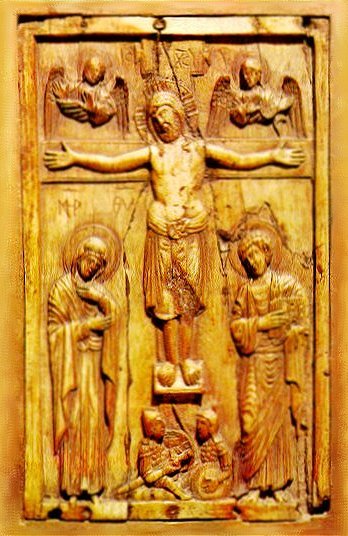 Ivory of the Crucifixion

Byzantine, 11th - 13th century A.D. Carved ivory.
Housed at the Mount Athos Monastery of Dionysiou in Greece.

Courtesy of the Byzantine Images Gallery at Byzantine Studies on the Internet.

---

Byzantine Art

Timelines in Art History
This is a fantastic site to begin learning about Byzantine art and culture in general. The pertinent pages are:


Byzantium Resource Page

Early Byzantine Art, 330-842

Middle Byzantine Art, 843-1260

Late Byzantine Art, 1261-1453

---

Byzantine Culture & History

About the Orthodox Christian Faith
Everything you ever wanted to know about Greek Orthodoxy.

Byzantine Studies on the Internet
This site, a companion page to the Medieval Sourcebook, is an even more comprehensive repository of all things Byzantine than Argos.

Exploring Ancient World Cultures: Early Islam
An excellent site to become familiar with the rise of Islam and its effect on the Europe of the Middle Ages.

---

The above pages will get you started on many fascinating hours of research and discovery regarding all aspects of Byzantine culture and history. However, if you need additional site suggestions for further help and more specific research, please visit History on the Internet: Middle Ages, where you can find many more high quality links.

Classical Christian Homeschooling: Classical Education at Home
Site designed and maintained by Christine Miller / This page last revised February 2000
Art History: Ivory of the Crucifixion
http://www.classicalhomeschooling.org/byzantium.html
Copyright © 1997-2000