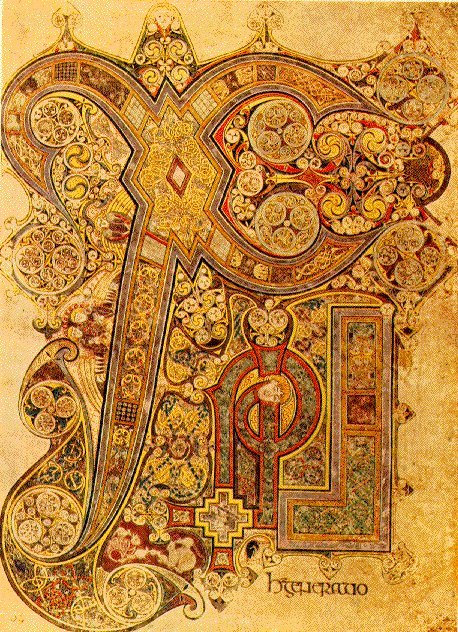 the Book of Kells

Manuscript, ink on parchment, from the second beginning of the Gospel of Matthew.

The text reads: XPI (abbreviated Greek form of Christi) autem generatio. Mt.1:18

The Book of Kells is a richly decorated manuscript of the four gospels, and is one of the masterpieces of Western art. It is believed to be the work of Irish monks at the scriptorium of Iona about 800 A.D.

Courtesy of Trinity College Dublin.

---

Dark Ages Art

Art History 201 Survey
This site contains a good cross section of images. The pages to check into are:


Pre-Christian Art of Northern Europe

Monastic Tradition & Iconoclasm

Carolignian Renaissance

Ottonian Art

Celtic Art and Cultures
This fantastic university site covers Celtic images and design, plus maps and timelines, topics, and vocabulary.

---

Dark Ages Culture & History

Celtic Orthodox Christianity
This webpage is built around the themes of Celtic and Old English worship and saints, historical and theological studies, and book sources and reviews. The Timeline of Orthodox Christianity in the British Isles is really helpful, including political and military events as well.

Medieval Sourcebook
There is so much more to the Dark Ages than the Vikings. Be sure to visit these subpages:


The End of the Classical Age

The Roman Church

Early Germanic States

The Celtic World

The Carolingians and After

Viking and Scandinavian History
Another great About.com (formerly the Mining Co.) site, covering not only history, but art, archaeology, daily life, combat, the longships, runes, and just about every other aspect of Viking life imaginable.

---

The above pages will get you started on many fascinating hours of research and discovery regarding all aspects of Dark Ages culture and history. However, if you need additional site suggestions for further help and more specific research, please visit History on the Internet: Dark Ages, where you can find many more high quality links.

Classical Christian Homeschooling: Classical Education at Home
Site designed and maintained by Christine Miller / This page last revised February 2000
Art History: The Book of Kells
http://www.classicalhomeschooling.org/celtic.html
Copyright © 1997-2000