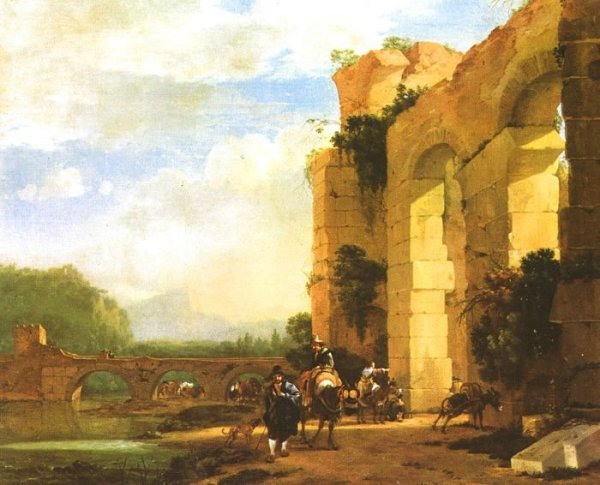 Italian Landscape by Jan Asselijn

"Italian Landscape with the Ruins of a Roman Bridge and Aqueduct" by Jan Asselijn (Dutch, 1610-1652).
On display at the Rijksmuseum, Amsterdam.
The Renaissance was not limited to Italy; in the north it was decidedly different in character and influence.

Courtesy of Carol Gerten's Fine Art Museum.

---

Northern Renaissance Art

Northern European Painting of the 15th-16th Centuries
A National Gallery of Art site. Besides the introduction on the art and style of the Northern European painters, take several excellent tours of the paintings of the Dutch, German, and Flemish masters of the day.

---

Northern Renaissance Culture & History

Renaissance Background Information
While the main page of this site deals exclusively with 16th century English Literature, this background information page on the Renaissance time period is excellent, and is a treasure trove of links concerning the Northern Renaissance.

---

The above pages will get you started on many fascinating hours of research and discovery regarding all aspects of Northern Renaissance culture and history. However, if you need additional site suggestions for further help and more specific research, please visit History on the Internet: Renaissance, where you can find many more high quality links.

Classical Christian Homeschooling: Classical Education at Home
Site designed and maintained by Christine Miller / This page last revised February 2000
Art History: Italian Landscape by Asselijn
http://www.classicalhomeschooling.org/northern.html
Copyright © 1997-2000