Text Only
(Printer-Friendly)


curriculum

Classical Christian
Homeschooling:
Classical Education
at Home
WebMaster:
Christine Miller
Classical Christian
Homeschooling Online Catalog: Teacher's Science Resources
www.clas...ling.org/curriculum/science-teacher.html
This page last revised:
May 2003
Copyright
© 1997-2003
---
Teacher's
Science Resources
---
---
Grammar Stage: Nature Study
Resources for parents and teachers which help us help our children discover, identify, classify, and wonder at God's beautiful natural world.
Dialectic Stage: Origins Science
Resources for parents and teachers which help us help our children grow in understanding and discovery of general science, as well as the issues involved in the origins debate.
Rhetoric Stage: History, Philosophy & Nature of Science
Even though we might have studied some science in our own schooling, most of us have had little instruction in the fascinating questions involved in the nature of science, the philosophy of science. These questions have profound implications about the authority of science in our lives, and are of prime significance.
---
Grammar Stage: Nature Study

Field Trips
Jim Arnosky
Subtitled: Bug Hunting, Animal Tracking, Bird-watching, Shore Walking. This four-part introduction includes sufficient information, both basic and specific, to prepare and guide a family or group on several enjoyable nature hikes. Arnosky presents general descriptions of life cycles and species identification; items needed for successful observation; and precautionary measures to ensure safety from tick bites, stinging insects, birds protecting their young, and powerful animals. Designed as a scientific notebook, besides Arnosky's beautiful and detailed illustrations, he provides sample notebook pages for budding scientists to record observations and drawings.

---

Keeping a Nature Journal
Clare Walker Leslie & Charles E. Roth
Subtitled: Discover a Whole New Way of Seeing the World Around You. In this inspiring and easy to use book, Clare Walker Leslie and Charles E. Roth offer simple techniques to give first-time journal-keepers the confidence to go outside, observe the natural world, and sketch and write about what they see. At the same time, they motivate long-time journal-keepers to hone their powers of observation. Using the methods the authors have developed over years of journaling and teaching, this guidebook provides inspiration, examples, and step- by- step drawing instructions to allow anyone to begin recording the natural world on paper. This book is best for first time nature journalers. Clare Walker Leslie is a nationally acclaimed wildlife artist and naturalist and the author of many books; for more than 25 years she has taught nature journaling and field sketching to students of all ages. Charles E. Roth is a science and environmental educator and the author of twenty books. He served as Director of Education for the Massachusetts Audubon Society for many years.

---

Sierra Club Guide to Sketching in Nature
Cathy Ann Johnson
An inspiration for the naturalist, this practical, readable work focuses on drawing and sketching the natural world while out in the natural world. Lavishly illustrated, this sketching and watercolor primer features 280 examples of Johnson's work in black and white and color. Use the step- by- step instruction and exercises as a guide to help learn to record outdoor nature studies -- in field, forest, or backyard -- in the nature journal. The emphasis is on the medium of pencil and paintbrush. The book includes a helpful source list for art suppliers, national art workshops, and a useful bibliography. This book is best for those who have done some nature journaling, and want to hone their skills.

---

Kingdoms of Life: Classification
Bridget Anderson
More than two million different species of organisms live on Earth - in all kinds of climates and places, ranging from the freezing North Pole to hot and steamy jungles, and from the highest mountains to the nethermost depths of the oceans. How do we keep track of the teeming abundance of life on Earth? Throughout history, humans have always been busy naming and classifying all living things. That process continues today. The Kingdoms of Life: Classification explores the amazing diversity of life on Earth and details one way scientists currently organize their records to make sure that no organism is left unnamed and unclassified. This is an excellent introduction to classification for children. Scientific terms are introduced in a clear manner and defined in context in the text, but can also be found in the glossary in the back of the book. This new science series, produced in conjunction with the American Museum of Natural History, presents each topic in interesting easy- to- understand text and illustrations.

---

DK Nature Encyclopedia
DK Publishers
From the smallest single-celled organisms to the greatest mammals of land and sea, The DK Nature Encyclopedia describes in outstanding detail the rich diversity of life on Earth. Magnificently illustrated, this wonderful resource explores each major plant and animal group, including flowering plants, birds, reptiles, insects, fish, and mammals. Thematic sections cover topics as varied as reproduction and survival, photosynthesis and communication. It also includes classification charts (!) and a glossary of science terms. Organized into sections -- The Natural World, How Living Things Work, Ecology, Classification, Plants, and Animals -- the Nature Encyclopedia is a perfect reference for anyone curious about organisms, ecosystems, and the scientists who study them. Includes references to molecules-to-man evolution as fact.

---

DK Science Encyclopedia
DK Publishers
Packed with facts, figures, and statistics in four key areas -- Chemistry & Physics, the Living World, the Earth & Weather, and Space -- includes more than 1,000 full-color maps, photographs, diagrams, charts, and illustrations. The full page and double spread entries are organized thematically -- much more useful than alphabetical entries for making connections and thinking about whole systems. Every entry has accurate, well-written text cross-indexed to related pages and to the "Fact Finder" section in the back, with charts, tables, and maps to use with each section. A glossary and index round out this thorough package. Caveat for the Living World section: takes the premise of molecules-to-man evolution as fact, and this colors the entire section. The sections on the non-living world are wonderful.

---

Everyday Science Sourcebook
Lawrence Lowery
Subtitled: Ideas for Teaching in the Elementary and Middle Schools. This huge sourcebook (over 400 pages!) is a compendium of science experiments and demonstrations, with instructions, that show every conceivable scientific concept imaginable. More than 1000 activities, many illustrated, use simple household materials, organized for easy access. Experiments cover six broad categories: inorganic matter, organic matter, energy, inference models, technology, and instructional apparatus (like making an alcohol burner for use in simple chemistry experiments). The demonstrations and experiements include extensive background and teaching notes.

---
Dialectic Stage: Origins Science

Creation Magazine
Answers in Genesis; Dr. Carl Wieland, editor
Creation Ex Nihilo is a family magazine about God's Word and God's world--science and creation. It is published quarterly by Answers in Genesis. This magazine contains fascinating feature stories every issue on various aspects of creation science and Biblical history and archaeology. The articles are written by highly credentialed creation scientists and other qualified authors, with laymen in mind (technical terms and discussions are explained and diagrammed in side-bars). They keep tabs on the current news in evolutionary theory and report on their "breakthroughs" in a way you won't find in the morning newspaper. Recent feature articles covered such topics as Design and Natural Selection in Bears, Evolution's

Inherent Racism, Did Australia's Aborigines See Dinosaurs?, Granites -- They Don't Need Millions of Years to Cool, Heirloom Plants -- Hostile to Evolution, Exploding the Big Bang Myth, interviews with top researchers and scientists, articles to help believers defend their faith, and more, more, more. Creation contains the breaking discoveries that newspapers and National Geographic won't cover. Very highly recommended for the entire trivium, and especially necessary for the dialectic stage!

---

What's Darwin Got to Do with It?
Robert Newman, John L. Wiester, Janet & Jonathan Moneymaker
Subtitled: A Friendly Conversation About Evolution. "What's Darwin got to do with it? When it comes to evolution, quite a bit! But many people don't understand Darwin, creationism, and intelligent design." This book makes sense of the differences by following a friendly conversation between two professors on evolution and what science can explain about life. Throughout the conversation, logic is introduced, explained, and logical fallacies (commonly made during debates about origins) are highlighted and explained. Caveat: the book comes across as slightly disapproving of young earth creation science, and more approving of intelligent design theory; and the peppered moth story is used to explain a major element of darwinian theory (natural selection), as it is used in school and university textbooks; however, since this book was published the peppered moth story has been shown to be fraudulent. However, the explanations of logical fallacies often made in debates, and the presentation of just what darwinianism postulates is so clear that I thought it had to be included.

---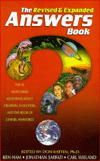 The Answers Book
Don Batten, Ken Ham, Jonathan Safarti
Newly revised and expanded, The Answers Book provides answers to the 20 most-asked questions about creation, evolution, and the book of Genesis. These are the questions that molecules-to-man evolution taught as fact in modern schools have raised: Does God exist? Did God really create everything in six days? What about the gap theory? What about carbon-14 (radioisotope) dating? How can we see distant stars in a young universe? How did bad things come about? What about the arguments for evolution? Who was Cain's wife? Who were the "sons of God" and/or the "nephilim"? Was Noah's Flood global? What about continental drift? What about all the water for Noah's Flood? How did all the animals fit on the ark? How did marine animals survive the flood? Where are all the human fossils? What about the Ice Age? How could animals get to places like Australia? How did the different races arise? What happened to the dinosaurs? Where can I go to learn more? The answers are extensively footnoted, and are written to be understood by the layman. This will help parents answer and lead discussions into most of the questions dialectic stage children might bring up. For more answers, I recommend the resources suggested in the Origins Science Debate page, and also the Answers in Genesis website maintains an extensive question and answer section with links to many articles which go into further detail.

---
Rhetoric Stage: History, Philosophy, & Nature of Science
The best books I have found on the history, philosophy, and nature of science are already part of the Rhetoric stage science curriculum: The Biotic Message, Philosophy of Science and Belief in God, and Christianity and the Nature of Science. This study is of personal interest to me, and I am constantly looking for the best material written on the subject. When I find additional resources for the teacher and parent, I will add them here.
---
Using the Online Catalog

This online catalog is made possible through an association with Barnes&Noble.com. Clicking on the book title or book cover will take you to Barnes&Noble.com's information page about that book. You can look at its price, availability, any discounts currently taken for that title, reviews of the book, and other information, as well as order it if you decide to purchase the book. You can even place books in your shopping cart and save them for purchase at a later time. You can continue to add or delete books from your shopping cart until you are satisfied with your order and ready to purchase. Clicking on any link to Barnes&Noble.com will open a new window; to return to CCH, click on the "Window" menu on your browser's menu bar, and choose Classical Christian Homeschooling.
Sometimes books go out of print, or the publisher runs out of stock. Any book not available from Barnes&Noble.com for any reason can be searched using AddAll.com, a book shopping site which will scan Barnes&Noble.com as well as Amazon.com, Powell's Books, Book Close Outs and many other new and used book sites. Be sure to also check BookFinder.com for out of print book searches.
Still have questions? Ask me!
---